Rosacea is a common skin condition which is found on the central part of the face. A tendency to flush easily is followed by persistent redness on the cheeks, chin, forehead and nose, and also by crops of small inflamed red bumps and pus spots.
What is the cause of Rosacea?
The cause of rosacea is not fully understood, however it is thought that the defect lies in the blood vessels of the face, which dilate too easily. Rosacea is more common in women than in men, and in those with fair skin who blush easily. It is not contagious and can be worsened in individuals by alcohol, too much exercise, hot spicy foods, stress and sunlight.
Can rosacea be cured?
No treatment can be guaranteed to eliminate rosacea, however, long-term treatments do control symptoms and can clear the spots. Treatment does work best if started when rosacea is at an early stage.
How can rosacea be treated?
Rosacea may last for years if left untreated. Preparations applied to the skin can sometimes control mild rosacea, or keep rosacea in remission after a course of oral antibiotics. Most people with rosacea, however, do need to take antibiotics by mouth from time to time.
Popular topical preparations include a gel containing metronidazole, and other antibiotic preparations containing clindamycin or erythromycin. At least 8 weeks is needed before any noticeable effect can be seen, and treatments should therefore be continued for a minimum of 8 weeks.
Before Treatment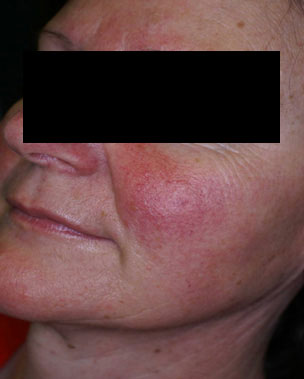 The most commonly used oral antibiotics, such as oxytetracycline, belong to the tetracycline group. Courses usually last for around 10 weeks, after which the dose can be reduced, or if the rosacea has cleared, the treatment can be discontinued. If a tetracycline has not helped after a reasonable trial lasting several months, another antibiotic, such as erythromycin can be tried. Tetracyclines are not suitable during pregnancy as they can harm the unborn baby.
Other treatments can include:
Ugly dilated small blood vessels can be destroyed with a laser or IPL.
A bulbous nose affected by rhinophyma can be reduced surgically.
A beta-blocker tablet may help if severe flushing is a problem.
Isoretinoin tablets are occasionally given for very severe rosacea, but the great risk of taking these during pregnancy must be kept in mind.
The medical team at Reba are working closely with other specialist colleagues on the pioneering use of IPL in the treatment of rosacea. This non-laser medical device delivers a series of intense light pulses to the skin over the area involved. Specific settings are selected for each treatment and a series of up to five treatments can performed at three to four week intervals. Patients will experience a gradual decrease in overall redness and flushing, breakouts will reduce and the sensation and discomfort of flushing will decrease.
After three treatments with Lux G Intense Pulsed Light